A Portrait of Katrina Jade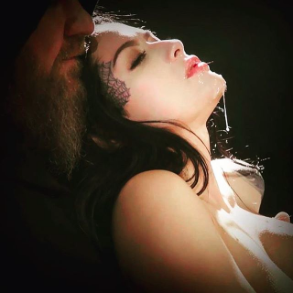 Katrina Jade is a twenties something California native who likes pizza, tattoos, and copious amounts of sex with copious amounts of people. Mostly she likes sex she hasn't had before.
Four years ago, Katrina was living in Mohave, California and working a retail job when she found some pictures on Instagram that she liked and decided to get in her car and drive for nine hours to reach the subject of said pictures. Upon arriving, she proceeded to fuck that man for sixteen hours. Then they were married. What followed was another sex bender of the kind one might almost call physically impossible. They fucked each other, they fucked each other's friends, they watched each other fuck each other's friends. Days later and in a stupor, Katrina sat back and asked, "So what do we do now?"
Her husband shrugged. He asked, "How about porn?"
They named her Katrina Jade.
Katrina Jade considers herself a part of the Lifestyle. She likes fetish. She likes bondage and ties and whips and domination and she likes to be dominated as well. Her first scenes were for Kink. On our set she showed up with ripped black leggings and raven black hair that hung to the small of her back and swished across her tattoos. She wore combat boots. The make up artist smudged thick coal black across her eyelids while she looked at me and explained the beauty of a cream pie.
She said, "I like cream pies because once a guy comes in me it's mine. I own it. Cream pies put me in control."
I asked her who she likes to work with, and who she still wants to work with. She leaned back in the make up chair and looked at the ceiling while the make up artist brushed a line of coal under her lash line. Her skin is porcelain. She said, "I want to work with the people I haven't worked with before. I don't choose people based on names or reputations. I choose based on chemistry. It's the intensity I'm after—when you're close for the first time to a person whose chemistry makes you crackle."
She blinked to give her eyes a break and the make up artist pulled back. In a moment she was fine again.
She said, "That's why I'm a slut."
On her hip in big black lettering is tattooed the word Slut. I learned this in the wardrobe room as she stripped down the ripped leggings and emerged from the oversized sweater she'd been hiding beneath. Her breasts spilled out. They were huge and young and had the ripe look of a body just about to burst from its curves. They were shocking. Breasts like Katrina's will stop a man dead in his tracks. It seemed like at one point she would have mentioned them. Equally good were the cleaved sphere of her ass and the soft shape of her legs. She has the body of a pinup model.
I kept pressing her as we hung small bits of fabric across her body and pretended it made an outfit. I said, "What else do you like?"
She thought about it for a moment, then said "I don't like sensual, I like sexual. Don't make out with me slowly while looking deep into my eyes. Spit in my mouth and pull my hair while looking deep into my eyes."
"Ok," I said. "What else?"
She reached for a black corset and tried it on.
"I like black."
I tried again, though by then I had a sense of her. I said, "Do you like anything else?"
She smiled. "I like a strong cup of coffee."
Then she added, "—black."
To view Katrina Jade in "Sacrosanct," please visit TRENCHCOATx