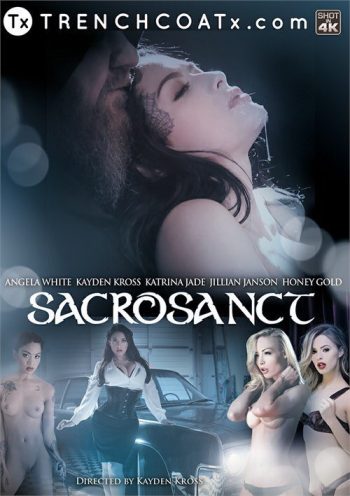 Passion projects are reckless, if for no other reason than projects of passion don't heed reason, and numbers are reasonable. There exists a quiet knowledge among producers of the more mainstream adult industry, and it is this: don't go dark. The data points away from shadows. It says that the majority of viewers of adult content are drawn to clean, flat light, in spaces with large windows and light tile in the center of which lies the piece de resistance that is the White Porn Couch (logistics demand that said porn couch be covered in leather, or at least a wipeable material, for obvious reasons…). The numbers say sex must happen on this couch.
While I like sex on white couches just fine, I also like sex on other things, at other times of day, in other settings.
For example, I like the sex in Sacrosanct. Like is too soft a word though. The better word, perhaps, is fixated. I am fixated on the sex that takes place in Sacrosanct, which is why the making of it is a passion project—white couches be damned. This is a dark and moody project made in places without daylight and tile and especially void of white couches. The settings happen in places outside of your neighborhood—as in Katrina Jade's scene: here the set is foggy and damp, with influences taken from the upside down in Stranger Things, as well as from her real life predilections with her real life partner, whose lap she performs on with unknown men. In Honey Gold's scene, the settings are surreal flashes and wisps that bring her closer to the story she'll tell of how she was lured enticingly into sex with a stranger. Then there is the scene with Angela White, with notes taken from the sirens of Greek mythology and the crime noir aesthetic of the 1940's—and where else was it going to go but up against that old car once the consent was given?
Finally, in the last scene, I came the closest to something that might take place alongside a memory set in real space and time. The scene features me. Here we enter a hyper real VIP room in a set-away space in the back of a club. Taken partly from memory and paired with personal fantasy, the dance builds into a tease that is just within reach. Manuel looks but he can't touch. Luckily for him, I manage to keep my hands full enough for the both of them—and find a way to balance the addition of Jillian Janson, too.
Please enjoy this little passion project of mine. You won't find a white couch, but you'll very likely find a few things that you hadn't seen before. Scenes that are dark have a mood that is deeply sensual—they pair with words like sultry and wanton and vamp. Despite what the numbers say, these qualities, for me, are a most desirable aesthetic in porn.