A Portrait of Vicki Chase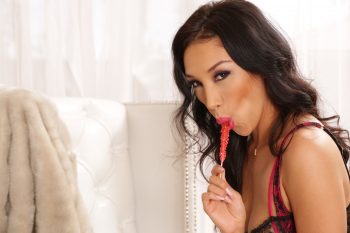 Tired of counting money that wasn't hers, the day came that Vicki up and quit her job at Chase bank. The year was 2010. A small-wristed Latina in her early twenties with a quiet voice and an overt willingness to jump in bed with strangers, Vicki had already attracted the eye of the casual pornographer who banked there.
He said, You should visit a porn set.
She said, When?
The set she visited boasted five men and a woman's mouth in a scene she would learn to offhandedly refer to as a blowbang. Squatting demurely off frame, Vicki watched with excitement. When it was over, her pornographic guide treaded carefully, nervous he'd scare the girl off.
So, he asked, what do you think?
Vicki could only nod. It was the hottest thing she'd ever seen.
What Vicki remembers most about the first scene she performed in was the pop and sizzle of sparking nerves. She'd never talked dirtily before, generally having resigned to be the quiet sub in her off camera encounters. But the director looked past the monitor at her on that first day and told her flatly that the scene would require she talk dirty. So Vicki swallowed dryly, and then she did.
But of course she talked dirty. Even if the experience was a first for her, Vicki would soon prove to her audience that she has a proclivity towards things that might be done with her mouth.
When the scene was done the director craned his head around the monitor once more with an air of quiet impress. Vicki smiled and wiped her face clean. He said, Good job.
Previous jobs on Vicki's resume include cashier positions at Levi's, McDonald's, and—of course—Victoria's Secret. She began working the day her mother saw one of her high school report cards and told her that if she was going to be pulling grades that low, she was going to at least get a job. So she got a job.
A first generation Mexican, Vicki grew up among an extended local family in Los Angeles. She was studious and reserved through junior high, and then high school hit and she suddenly became interested in the world beyond the cinderblock walls of her school. By that time her only unsupervised hours were during school, so it was during school she began exploring. Instead of attending algebra class, she went skiing. Instead of P.E. she hiked Griffith Park. And instead of Sex Ed she—well I'm sure you can follow. The point is that Vicki likes to learn about the world while in the world, as opposed to the sterile interior of a classroom.
Porn proved perfect for her.
With the money made from a single scene Vicki was able to completely wipe out the credit card debt she'd amassed. She'd feared that the industry would require her to get blonde hair and fake tits if she wanted to work regularly, but was pleasantly surprised to find that porn welcomes with open arms any pretty young thing with an ethnic card to play who might come calling. Vicki stole her name from the bank and became Vicki Chase, then she played on her heritage. She was the hot little Latina with the glossy smile. She said, Papi.
While the hot Latina card held value, it was Vicki's attitude that has ultimately given her the longevity her career has had. From day one, Vicki says, she told herself this: I'm going to have fun with it because there is no other way. It's a mindset. You do it for the camera, yes, but you also do it for yourself, and that's what really shows on camera. People see the difference.
Now a reliable and brand name performer, Vicki went on to win the AVN award for Best Oral Scene in 2015, the same year that the showcase around her—V for Vicki—won AVN's Best Showcase title. By then she'd done what few performers ever work up to in their careers and branched out on her own sans agent, manager, or publicist.
When asked about it she shrugged simply and said, Be your own boss.
But rather than square off her shoulders when she makes statements, Vicki giggles girlishly and looks down. She has a sense of authenticity, of genuine kindness, and is as present in conversation as she is easy to talk to.
But that's not why I booked her to demonstrate a stand out BJ in our newest series, How to Blowjob. No. The fact is it doesn't matter how sweet you are or how genuine your smile is. What matters in this case is how well you wrap your lips around a dick. And Vicki has won awards for this particular skill set. You might even say she's passionate about it.
Said Vicki on oral: It's something that I always make it a point to do well. I get off on it. I'm aware that it sets me up for a good scene and makes me stand out. But for me, personally, I enjoy giving head because it makes me wet. It makes the sex better. And what are we all here for if it's not to make the sex better?
Naturally, the addition of Vicki to the cast of our movie proved a fine choice indeed. Starring in the episode fondly referred to as the Sloppy Blowjob, Vicki struts onto frame in designer lingerie and stiletto heels and coyly spritzes a citrus wedge. The lone man in sight grows hard.
What follows is wonderful—even notable. Some women are perfect for porn, and they are the ones who ultimately last. Vicki is one of them. Perhaps that man in the bank saw the potential all those years ago. Or perhaps he was just gunning for the kind of blowjob that a girl like herself can give.
Check out Vicki's tutorial in TRENCHCOATx.com's "How to Blowjob" today.