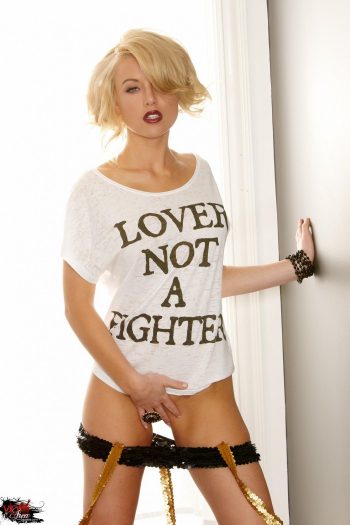 I just freaked out the room service delivery chick through a series of suspicious but explainable events. See, I've been taking vicoden today for my mutilated finger. The vicoden makes me forget things. I forgot that I had ordered room service. I'm out in New York right now for the Exxxotica convention. I brought some porn and lingerie for work related reasons. It's strewn across my hotel room.
When I hang out alone I generally don't wear clothes. Ya'll probably think we only say that in interviews to strengthen the fantasy but this one is true. The one that is not true is the part where every single one of us claim to be bisexual. Oh, and while I was naked with lingerie and porn everywhere I was checking out my website, specifically the new gallery with me on the bike, specifically the picture that was a close up of my pussy and the bike. Specifically the large file that filled my entire computer screen. I just wanted to make sure the shave was good in the set. Innocent enough.
So I heard a knock at the door and hung up the phone and wrapped a towel around myself and answered. The chick was holding a covered platter and it only made sense that my long forgotten food would be resting peacefully within it so I let her in. She asked where I wanted it. The bed? No. It was covered in porn and lingerie. The table? No. For the same reasons. The desk? Yes! And over to the desk she went.
Still being under the influence of pain killers, it took me a minute to realize she was staring at my computer screen while I was trying to sign the bill with a damaged right hand and an inkless pen. There was porn there, as you might imagine. It was my porn. I'd been sorting through the latest photo set for ClubKayden. She had trouble making eye contact with me. I ran through a list of possible explanations in my head: "Uh, I was just catching up on work." No. "Sorry I forgot you were coming." No. "Don't worry, it's mine." Probably not. I realized at this point that there was no explanation that would let me come out of the situation looking normal. The towel had slipped off my left nipple a bit. I was probably pushing the eye contact thing a little hard too. So instead I bumped up her tip and sent her on her way with a big smile. I'm sure she's down in the kitchen this very moment telling the tales of the perverted chick who came on to her in no uncertain terms.