Ninjas and Samurai Swords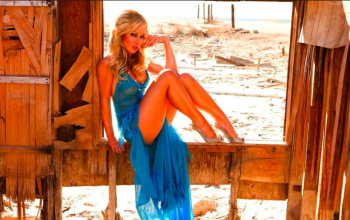 I drove out to Indio Thursday night with Holly Randall and my web master and a make up artist for a shoot we had planned all day Friday at the Salton Sea. We got in around midnight after a real road trip filled with a taco bell run, a tiny bit of navigation error, and gut spilling. I feel like I know the webman better. I have material to tease him with for years to come. I feel empowered.
We checked into the hotel and I settled down to write an article I had promised then passed out. The alarm went off at 5:30 am and I was in the make up chair at 6. Then we jumped on the road for another 40 minutes. We ran into a small grid of trailers that didn't constitute a town because there was no gas station. Actually, there were no businesses at all save a bar/mini mart and possibly an automotive repair in someone's front yard. The place was deserted at 8:30 in the morning. We figured they were all asleep. When we couldn't find the exact deserted spot we were looking for Holly turned back to the bar/mini mart to ask for directions. The bar was packed. I think I can safely report that the entire town was in that bar at 9am. They were quite friendly though and pointed us in the right direction. Sweet.
So our little caravan pulled up to the shore, my giant truck and her Volvo. At one point in time the sea rose up and flooded the old trailer park grid and what was left was gray and sagging and made of plywood. The salt crunched underneath us as we walked between abandoned homes and over fish bones. Everything was the same color except the sky which seemed vividly blue in comparison. There was no life anywhere. Except the ninja. There was a ninja practicing on the shore about a quarter mile down. He was spinning a large stick and wearing all black. My webmaster said he was quite good. My webmaster would know. He had brought a samurai sword for protection. I didn't think anyone would believe this part so I got it all on camera.
The first photo set was gorgeous. I wore a bright blue dress to match the sky and posed in front a water damaged chair in a roofless house and a broken out window. I wore trailer make up. Artsy. At one point some park troopers rolled through and asked Holly what she was doing. She was a student at Brooke's University. This was her semester project. He said next time get a permit but as long as there was no nudity or money being made he'd let it slide this time. No sir. No nudity or profit here. He left. I know what you're thinking: this is a national park? Yup. Protected by your tax dollars.
After the first set we drove off in search of another secluded beach. We found one down a nameless road and got more artsy grunge inside an old public restroom that had also been abandoned after it was flooded out. I was impressed with Holly's range. I've only ever seen her shoot in a controlled studio doing the same controlled poses that are optimal for bright clear views of the cookie. She put me in black leather boots and fetish make up in the men's bathroom. There were holes in the plywood and if you stared straight through the toilet seats you could see your own reflection in the communal sewage well at the bottom. She made it beautiful. This beach was in a different phase than I'm used to seeing. The sand wasn't fine granules that make you want to build castles and bury your feet. It was broken down bones with whole spines or smaller individual vertebrae that crunched beneath our feet as we tried to step around whole preserved fish that had been perfectly dried in the sun and salt. It stank. We did another set in front of rotting telephone poles sticking out of the water at dusk and a final set on a concrete slab that had collapsed years ago at the shore as the last rays of light disappeared behind the mountains. My webmaster was upset that we didn't get to shoot with his samurai sword.
Then we packed up in the dark and realized that Holly's Volvo did not have 4-wheel drive. She was stuck in the bone-sand. My truck moved out with no problem but I didn't have any way of pulling her out. She tried to get a tow service out but the road had no name and we didn't know how to direct them to where we were so I drove her back the main road and entered a border patrol station from the wrong direction and they freaked out and yelled at me but helped us anyway. We drove back and ate Fig Newton's and waited a couple of hours for the tow truck. We bonded some more. The tow truck finally showed up and I laughed. It was an F150. I had an F250 4×4. The difference was he had chains to attach to her car. He charged $300.
I got back late. My alarm went off earlier than I would have liked because I had a signing in Riverside for Adam and Eve. Traffic sucked. It was technically two signings. I got home after Midnight.
So today I get to relax. My call time tomorrow is 4:30am in Hollywood for a commercial I'm doing. I have to show up with red fingernails and expect not to be done before 8pm. My call time the next day is 7am in the desert for "The 8th day", which means I'll probably drive up Monday night and stay in a hotel. Then Wednesday morning the flight leaves at 7 am to take us on a four day signing tour in the northeast. I'll fly home Sunday and Monday I'll be back on set. I truly cherish today.