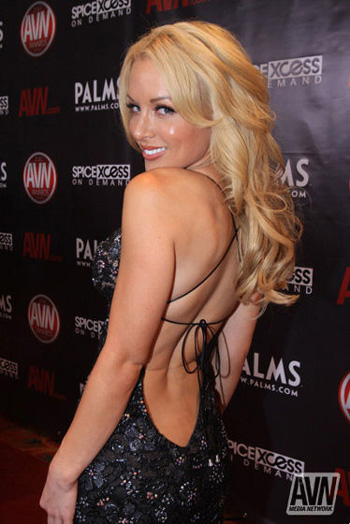 Well I'm sick and completely at peace with it. My body has wanted to be sick for so long that I was beginning to think I was denying it something vital like food or sleep. For months I felt like something was tugging at the hem of the various porn-short skirts I was sporting for conventions, for signings, for shoots, pulling at it in urgency like a toddler or a Senior at prom.
I'd get chills or a fever, sneeze for a few days and bat it away. I was constantly starting to get sick but never finishing because I had to be in Paris and Providence and Boston and Philly and New Jersey and New York and Florida and we were shooting the last movies of my contract and then Bam!–Tiger Woods has the best affair that I'm not involved in that I've ever had. So we worked that in too and patted ourselves on the back for being a part of the cleverest title of the year, "Tiger's Wood". Then there is my website, the happy black hole of content and live shows and chatboard activity. ClubKayden never dies.
Somewhere in there Thanksgiving happened. Christmas. New Years. I don't know how but I managed to make the family rounds and keep the peace. When I ran out of time I wrapped gifts in the bags they were bought in and sent texts instead of cards. I got snowed in in Rhode Island and even though I was wearing LA winter clothes as a token fight against an east coast blizzard I managed to fight the cold back then too. Instead I spent my time catching up on blogs for unkrossed.com — the other content black hole in my life.
An entire semester came and went. I worked on a term paper for three days straight, two of which were spent staring at the screen and tweeting about it and one of which was driven purely by coffee and hot chocolate until the sun rose and it was due and I wrapped up the final sentence, spell checked, and turned it in.
In October I was given the honor of cohosting the 2010 AVN awards with Kirsten Price. I showed up at the AVN office sniffling and coughing and wearing a thermal shirt with my hair tied back and they ambushed me with the surprise right before putting Kirsten in all of her perfection next to me and telling us to say cheese. I smiled, and once again put the cold on the back burner. With cohosting came the Howard Stern show, the photo shoots, the BTS, the sketches and the rehearsals. I took a few media classes along the way to catch up. I obsessed over dresses for two months only to switch gears and get the three I wore on the day of the show. Sleep was moved to the back burner as well.
There was the contract switch. Adam and Eve to Digital Playground. With that came its own set of things that didn't give me time to finally be sick. AVN was always around the corner, no matter what day of what month it was. In fact, AVN 2011 is already around the corner right now. I wanted to fulfill all of the responsibilities I had to AE while at the same time proving to DP that I intended to work my ass off for them as well. I was told by a third party to step up my game, dress sharper, be more visible. I shopped. A fourth party stressed the importance of responding to emails. I looked at my Facebook inbox for the first time in 8 months. I took a deep breath and dove in. Interviews about the company switch and the hosting and the Tiger Parody and the Best American Starlet award from Paris poured into my regular email account and I jumped on that too. My mom filled my voicemail box with messages wondering where I was. I was on the computer.
So AVN came and it felt like I blinked and it was gone. Dinners and clubs every night and signings and interviews every day. Hosting the awards show was one of the highlights of my whole career. I hit the make up chair at 8 every morning and the pillow about 3 every morning with the alarm set for 7 and every time it went off I stared at the ceiling blinking and wondering when it was all going to hit me because I felt way too good for what I was putting myself through. The convention ended Sunday. Monday I was laid out in bed like I'd barely survived a back alley bar fight. Tuesday too, and Wednesday and today. I got the works–fevers, chills, aches, sinus and respiratory with a hint of the sexy Phoebe voice. I'm calling it the AVN flu because I always get it after this convention and our industry loves puns and wordplay. I can't seem to figure out how to handle the sick time off so I'm filling my day with small tasks, things that have been on my list for a year or so. I needed a new phone because technology is not my friend so I picked up my third iPhone last night. I hadn't synced the thing in a year though. As the new one synced to what I had in my phone last year I sorted through emails and opened one that said it had been awhile since I'd blogged on Xcritic. Maybe make it regular? So I opened up the calendar on my phone to put in a reminder and it was still set to November 08 (where there was already a reminder that I was late for my Xcritic blog) and in order to get to the current month I had to flip through January 09, then February, March and on and on. It felt like I was able to flip through them as quickly as they had actually gone and as I landed on mid January 2010 I scheduled in an Xcritic blog and another solid week to be sick, and that's all my body gets for the year. Xcritic will be getting more than just mandatory sick leave though. I do solemnly swear.