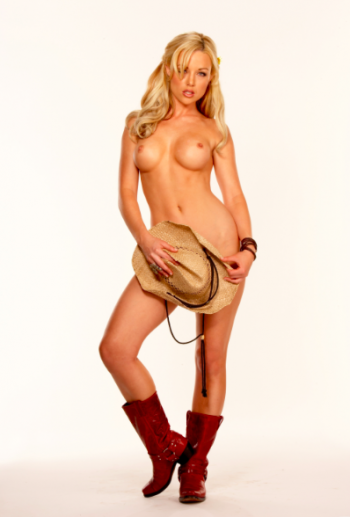 Let me paint by numbers for you: I can probably fill in the visual you already have. Yes, I'm on a porn set. Yes, I'm wearing really fancy matching lingerie underneath an otherwise plain outfit (boots and flannel). There is a hot naked girl outside having coffee with the crew, also in boots, and everyone has fucked someone on this set. The chef is making lunch—chicken and vegetables. Dildos are being washed somewhere out of sight and baby wipes and lube are standing by. That new silicone plastic porn smell is in the air. And the buffalo are napping.
Yup. There are buffalo. We're shooting Rawhide II and we're on a 600-acre movie ranch complete with livestock and a white rabbit. He's not better than Sammy but he's there and worth noting. I spent all morning running a reining horse back and forth against various ranchy backgrounds. They're bringing in a barn to burn down on Thursday… and while the girls are content to pet the horse on the nose the boys can't stop talking about the scheduled 70ft explosions.
I had sex in the back of an old pick up truck and now it has sentimental value. Or something. I loved the truck before I loved the sex. Either way I talked the director into not blowing it up (the truck–the script called for the truck to blow up). If I had the extra parking space I'd probably take it home as a pet. I have a soft spot for beat up ranch trucks. My first one had over 200,000 miles when I got it and I drove it until it died. It was a Silverado with cranberry interior and a passenger window that wouldn't roll down on a door that wouldn't close. It was love.
I'm also in love with the movie horse that they've had me riding all morning but the wrangler won't sell him. Not that I need another horse. This is always how it starts. Deep down I'm glad she stood her ground. All I'm waiting for now is the final shot they need of me crying over my dead husband (line: "He died four years ago… fell asleep at the wheel comin' home late one night") and then I'm done for the day, assuming I can ever deliver a line like that with any sincerity.