the kind they make with wood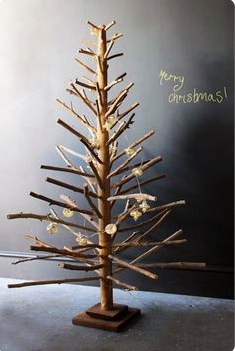 I'm behind this whole progress thing we're all on with phones that run our errands and substitute for relationships and green everything from cosmetics to cleaners to phones that run our errands and relationships, but some things are fine as they are.
For example: Christmas trees.
Los Angeles would disagree. The shock and awe I was met with when I tried to buy a Christmas tree was palpable. I called ahead to make sure they had Christmas trees before I showed up, because no one else did on my thus fruitless search and I was tired of driving around only to find out the hard way. They said they had Christmas trees. Real Christmas trees?, I asked suspiciously. Real Christmas trees, they said. I drove straight there. I walked in and looked around. More fake plastic trees were stacked by the door. I asked where the real ones were. The security guard pointed behind him to the boxed trees. I told him that trees that came in boxes were plastic and therefore not real. He looked at me quizzically and pointed me in the manager's direction.
The manager also tried to point me to the boxed trees. I told him I wasn't looking for plastic trees, that I'd called ahead to avoid the exact situation I had once again found myself in, and that they shouldn't tell people they have real trees when they don't. He asked what I meant by 'real trees.' I sighed. Heavily. I explained that real trees were the kind that grew out of the ground and back in the olden days people used to cut them down, back before all things American were replaced with plastic. His response? Oh! You mean the kind they make with wood? We don't carry those.
So tomorrow I'll be more specific. I'll ask for trees they make with wood.