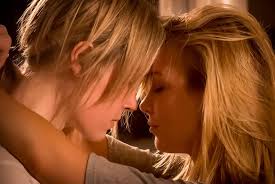 I've rediscovered girls in a life changing way. It started as something behind the scenes, like a tugging, a program somewhere deeply buried cycling out of latency and into full-blown pervedom. It came slowly at first. An intangible.
I began to notice there was something that would tighten the skin along my spine in the way a pretty girl would tighten around my fingers when I'd slide them spit-covered inside and press the pads against the g-spot and move. The way she'd inhale and make quiet girl sounds and the air would hit the back of her throat. Something about the way she'd fuck back the and the flesh would swell and squeeze.
Stoya is so pale that she is bubblegum pink in the creases. Her asshole is a strong ridge against the tongue and her scent is light, like water. She clenches with two soft bursts and then one long mean one when she comes. On the third clench she tilts her ass up and presses back against the stimulus, which in Thursday's case was myself. She has a small clit that will swell larger if you hold it down between your teeth at the base and apply pressure then find the tip with your tongue and build the motion into something circular and steady. The right inside lip is slightly larger than the left. She has some of the best lips I've ever kissed, and I when I say that I mean her mouth, too.
Jesse Jane when she fucks is like a rubber band that has snapped, except it is not the band that she is like but the energy that comes from it. Once released it keeps going and going until it feels like you have caught it in your bones. The planes of her face become more chiseled and blond streaks of hair stick in thin groupings in her sweat and her eyes take on the glassy quality of someone fevered. When you touch her skin it is hot. She is poreless and every part of her feels light and slick, like silk. The pout of her mouth thickens and becomes the color of blush and she pauses and smirks before she slaps. There is no way she won't arch to pull you in.
Riley feels like high school in the bleachers. She wears flat shoes and raises her face like it's the first time. She pushes her ass up sharp and meets your eyes and gyrates in a sweet surprise. The space between her is thin. When she kisses she takes your whole mouth in and holds your head in place with two hands in your hair. Her lips have a give. She feels clean and neat and no matter how many times you meet it you leave feeling like no one before you had ever been there.
I'd go on, but some secrets are best kept.