Why Porn Needs Carter Cruise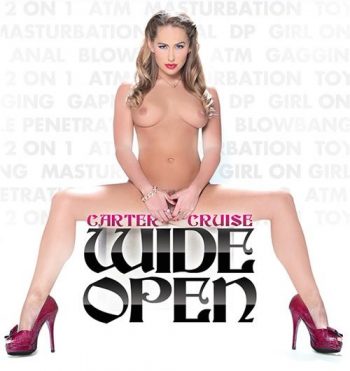 AVN's Best New Starlet award is reserved for the performer whose combination of beauty, sex, nature, and star factor is most apparent over the course of her first year working in the adult industry. This year's running was considered tight. A parade of stunningly pretty women with vast sexualities and good humor entered porn last year. So the question on everyone's minds at the AVN awards show this past January was, "Who will stand out?"
Carter Cruise stood out.
An English Major from North Carolina and a career good-girl, Cruise was a devoted sorority sister living in a sorority house, attending lectures, writing papers, and getting black-out drunk on the weekends before she shoved some furniture up against her bedroom door and spent an afternoon taking nude photos of herself in the bathroom mirror with the hopes of the gaining the attention of a porn agent.
The default question: What happened?
It's what didn't happen. One look at Carter's untreated blonde hair, the teasing blue eyes, Barbie-tan skin, and muscular ass and even the untrained eye will begin to understand that a woman like this won't do what's prescribed to her forever. Add in now the tongue rings and tattoos, the passion for underground club music, the sharp wit, and her philosophy that anal sex is the cure to all mood problems. What happened is that Carter Cruise does not fit molds. She inspires them to do better.
The adult industry does not simply need girls. It needs girls like Carter. It needs women who inspire fanatical followers—fans—because those women are not like other women. It needs stars. Carter Cruise is a star. That is why she won Best New Starlet.
That is not the reason we chose to make a movie around her, though. For Manuel and myself, a star showcase such as the ones we make in our Wide Open series represents a significant financial investment. It is also a significant investment of time and energy. Dozens of porn starlets win awards in this industry every year, and Manuel still has trouble finding exactly the "right" girl for a Wide Open title.
So now the question becomes this: What makes Carter Cruise stand out to us?
It is the way her performance sizzles and pops like hot grease against everything it touches. The camera lens loves her. There is a timelessness to her face that makes the things around her stand still. But it is not simply a trick of the camera. Real life loves her, too. Performers love performing with her. There is a realness in her scenes that sucks her partners in and makes them forget that there is a camera lens at all. Carter Cruise is real. Her energy on camera and in bed is one that pulsates and envelops the things around her. She is made for the camera—not only in the sense that the features on her face are stunningly pretty, that her body is tight and smooth, that all of the colors of her are vibrant—she is made for the camera in ways that looks simply do not cover. She can act. She has a depth and awareness that make the lines of her dialogue ring true. With one look she can communicate a feeling that the adult camera has been trying so desperately to catch. She can bring the viewer to the private place that the lens won't reach.
For us, that is a quality more worthy than any awards she may have won. After all, what are we trying to make if not something better than what we made before?