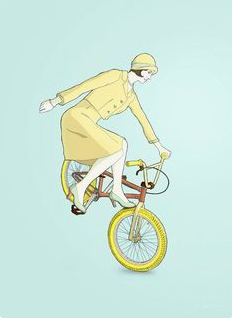 So I just moved downtown, specifically downtown LA, home of the world's largest collection of intact 1920's buildings and greatest concentration of electronics stores. It's a strange mix. Both spill out onto the streets and there are people and things everywhere and you can pass flower stores for blocks and blocks and then textile stores and then jewelry stores and everything is fast and easy and most importantly available to you on the bro deal if you pay in cash. At third and Los Angeles there is one straight block that sells bongs, porn, and energy drinks and that's it. It was glass pipes and plastic wrapped magazines as far as the eye can see, crammed up to the ceilings on warehouse shelving still wrapped in the cellophane they shipped in. And it's all one-way streets and the stoplights that are perpetually red to allow the foot traffic to pass.
                 Needless to say my first purchase as a resident of the industrial district was a bike.
                This bike is my new best friend. We're attached at the hip. I love my truck but that thing needs two parking spaces to really stretch it's legs out and be comfortable and I dread turning it on for fear that I may not find a place to turn it off again. 
 
                Here is the problem with awesome green bikes like my own: that sleek little seat is doing a number on my clit. I didn't notice it at first because it's not painful. It's just dulling. Then during my Twisty's shoot I had to pull a muscle to get that sixth orgasm out. I attributed it to the cycle. Not the gross bloody cycle that boys pray for and fear with a slightly religious undertone… just one of the many side effect cycles like bitchiness and sense of smell. That's right. We have a heightened sense of smell during this hormonally unfortunate time. And me, I have a slightly less sensitive clit. A lot of girls have fluctuations in sensitivity. Remember this next time you suck in bed and you'll feel better.
 
                But it dawned on me that it was not my time to be dull and bitchy. Then I had the kind of sex that should have resulted in shattered window panes and broken headboards but everything in the room came out unharmed. Something was up.
 
                I remembered a guy friend of mine who took up biking and lost interest in sex. Then his balls started having aches and pains. Then he started acting like a chick and calling me to talk about movies and clothes. Finally he broke down and went to the doctor who told him to get off the fucking bike seat and man up. Apparently it was doing some pretty real damage to his man sack. Within a week he was back to his usual self, running around trying to find a hole to fill on anything with a listening ear and a nice smile.
 
                The logical conclusion then is that my bike is hurting my sex life. This cannot be allowed to continue. It turns out it will be a quick and drama free fix—I just have to get a broader seat and wait for things to go back to normal. Sweet. In the meantime though I've been taking my psychology classes to heart. Freud said vaginal orgasms were more mature than the clitoral ones. I'm growing up. It's not that I've never had a vaginal orgasm before… I've just never been forced to rely on them. I usually take whatever comes first. 
 
                Disclaimer: Freud's crap about mature orgasms has since been recognized as crap so don't worry about where yours are coming from.  Onto what I've learned: couches are the most amazing thing to be bent over in doggy.  If you lean over it on your knees with your stomach pressed against the seat it acts like a backboard. You can move your hips to manipulate exactly where his dick lands on each stroke. It is perfection.
 
                Vaginal orgasms are a different kind of high. They last longer and they're slower to get going. They also come from different speeds of sex. These are the orgasms that open the door to squirting (or for the knock offs—peeing). The easiest way to get to it is long slow sex. Our culture seems to have forgotten about it. Slow sex is equally as awesome as rough break-the-headboard sex. All you need is a position the thrusts your dick against the roof of her pussy and a little time and you're in business. Trust me. You will never see this in porn. You're gonna have to wing it.